Does OKO Look Different to You?
If you feel you haven't heard much from OKO recently, it's because in addition to fulfilling our ever-increasing worldwide order book, we've been occupied with redesigning all of our products.
The job is now more or less complete, and as stocks of the previous designs run out, you will gradually begin to see our new corporate design in action. And of course it now appears on our website.
The powerful new OKO logo branding is matched with a standard yellow background and different accent colours (listed below) for each product for easy recognition. Some new product names are introduced for easier product choice.
Off Road – green drum and label, natural colour product
Mining X-Tra Heavy Duty – purple drum and label, purple colour product
Truck & Bus (formerly RTG) On Road – black drum, red label, salmon pink product
Quads & ATVs – black drum, orangey-red label, pink product
On Road Motorcycle – white drum, blue label, light green product
X-Treme Dirt Bike (replaces X-Treme and XT) – white drum, purple label, natural colour product. This is for off road motorbikes as well as mountain bikes with inner tubes.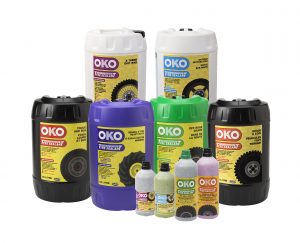 It's not just a cosmetic rebranding – we've made our products easier to use:
Pictograms replace words to show clearly how to apply OKO in each situation (regardless of your language)
A QR code and web address link you to our unique new online Dosage Calculator to find any tyre size and OKO dosage
Multilingual dosage tables are included on drums for the most popular tyre sizes
Where space permits, we show our ISO 9001 Quality and ISO 14001 Environmental certifications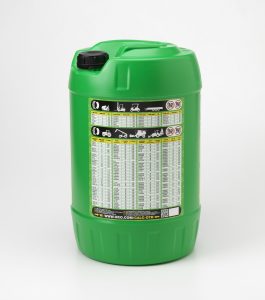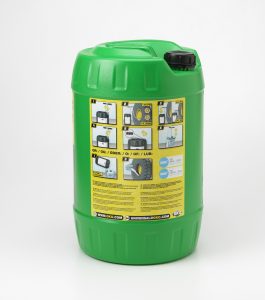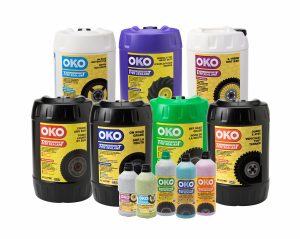 Bike Specialities
For the specialist bicycle market, we have already introduced the hugely successful new Magic Milk™ Tubeless (white label) and Magic Milk™ Hi-Fibre race (black label) products. They are being used by the World Champion MTB riders, as well as leading road and downhill teams.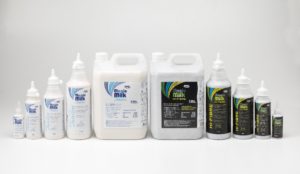 Now, in addition to the new super-powerful X-Treme Dirt Bike for MTBs with tubes, we will shortly have a redesigned Puncture Free Bike, for e-bikes, commuter and touring bikes (and on/off road riders) with tubes. In a white workshop drum, with an orange label and a light blue product. If you are in the bike business, or just a keen rider, come and visit us at Eurobike (Hall B1, 315) – we will be celebrating our 10th straight appearance at the World's greatest bike trade show!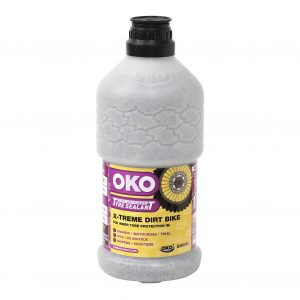 See our @OKOBike Facebook page for all our latest exciting bike news!