The History – and Future – of Tubeless Bicycle Tyre Sealants
In the beginning – well quite a lot of years ago – there was Stan's No-Tubes system; and if you wanted to go tubeless in those days you needed a simple latex sealant – to be lightweight (which after all is one of the key motivators for tubeless), to bond the bead to a rim strip and to fight the dreaded burping over lumps and bumps on the trail…
Inevitably, people experimented with 'ghetto tubeless conversions' with varying degrees of success; and eventually the tyre makers cashed in on the trend and made lightweight Tubeless-Ready tyres. But they have never agreed on a common standard even for the precise diameter of their products – so whether your set-up is good or bad can still be uncertain.
Plus which, the floppy, thin sidewalls are so porous that they leak air. As the movement to tubeless-ready developed, many riders became increasingly disillusioned with the drawbacks of the first-generation natural latex milk sealants. Why? Because they suffer from:
Limited sealing capability
Hideous ammonia smell
Damaged tyres and rims from that same ammonia
Latex allergies (suffered by a significant percentage of the population)
Short working life before they dry out – especially in hot climates
Balls of dry rubber being formed, that ruin the ride
Great difficulty in cleaning out the baked-on latex
CO2 incompatibility – they turn to cottage cheese on contact
This is why when UK-based OKO, the World's leading tyre sealant manufacturer, turned its attention to inventing a better tubeless product – having already introduced superior products for inner tubes – its objective was to overcome the weaknesses of the products that were (and are) on offer.
The first OKO Magic Milk™, 'the <lo-fat>™' lightweight sealant, was launched in 2014 and it has quietly been developing a great reputation with professional riders since then. Created around a synthetic latex base, it has these features:
It is the stickiest sealant, clinging to the whole inner tyre, sealing the sidewall porosity
Great puncture-beating strength
No ammonia, no smell, no damage to rims or tyres, no allergy issues
Longer working life
Classified 'non-hazardous' (natural latex products should carry a hazard warning)
Dries slower than others, in an even layer with no lumps
Easy top-up through the valve stem – no need to strip off the tyre
Use continuously until the tyre wears out
Compatible with CO2 inflators
Does not need shaking in the bottle – stays in solution (with most others all the good stuff stays in the bottom and you can get inconsistent results)
Continuous R&D for 6 years to date has resulted in what in the lab is known as Magic Milk Formula v13.1: and this was the basis of the new double range that was launched at Eurobike 2018.
Magic Milk™ Tubeless is the latest white milk for mainstream MTB and XC use. It is freer-flowing and is the strongest puncture sealer yet.
Magic Milk™ Hi-Fibre race sealant (or Hi-Fiber for US riders) is a premium product containing super-strong mini-fibres that will handle high-pressure road tyres (tubeless/tubed/tubular) as well as low-pressure downhill/enduro/gravel racing. Unlike some other 'Race' sealants it should not clog valves, can be used with the OKO Injector, and is certainly not restricted to a max of 40psi/3 BAR…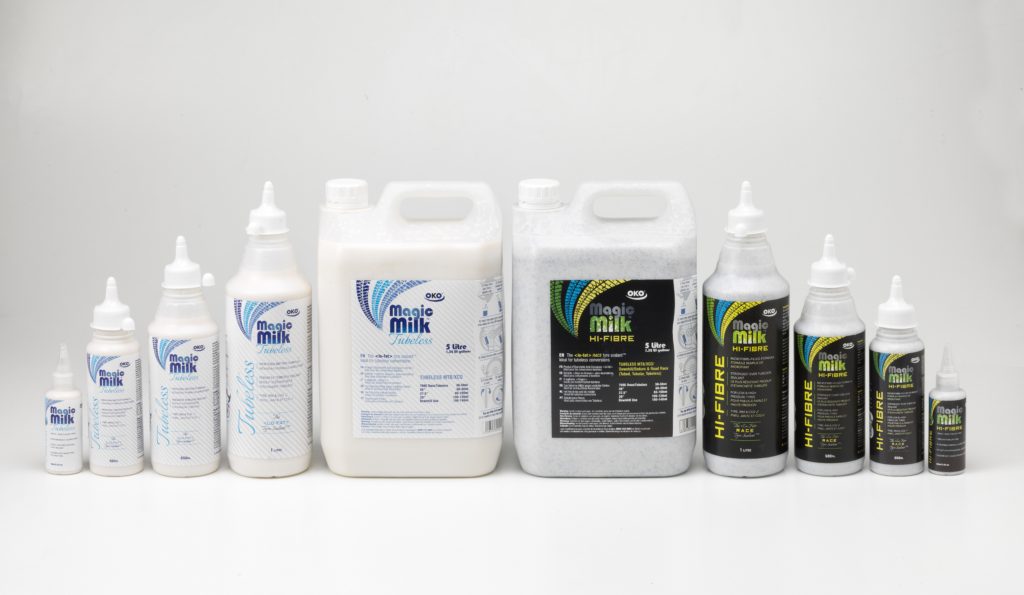 Both versions are available in the full range of sizes (you are not forced to buy more than you need), all at very competitive prices. Starting at a new 65ml 'Backpack Pack' mini-bottle, the range tops out with a 5 litre workshop can with injector.
These 'stealth products' that are gradually reaching public awareness are already catching on fast with race teams of all disciplines, who are defecting from their former sealants. The roll call is rising fast and includes –
Habitat Mountainbike Team, Netherlands (UCI World Cup MTB/XCO)
NS Bikes Factory Racing, Switzerland (UCI World Cup Downhill)
KTM Alchemist Selle SMP Dana, Italy (UCI Cyclocross/Marathon MTB)
David Rosa (8 times Portugese Champion MTB, Olympic competitor)
In 2019, there will be additional leading teams and riders in Road, MTB and Enduro using the products.
To see the product in action, view this video (the latest of several made by OKO users) and follow the OKOBike Facebook page. Where can you buy it? Leading Distributor Planet-X and its sister website On-One stock the range in the UK, and distributors in 30+ countries are listed at oko.com/find-a-distributor/
To quote OKO's headline – 'Believe in Magic'. It's the next-generation latex milk.