OKO and its LifeLong commitment to wheels and tyres
Every 2 years, the construction industry from UK (and all over the globe) gathers to see mammoth machines being put through their paces in the immense Hillhead quarry in the beautiful Peak District of Derbyshire, England. And this year, it was hot, hot, hot…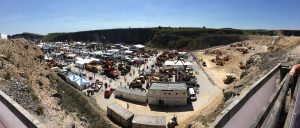 And in June 2018, every single person passed by the (fortunately air conditioned) OKO stand and witnessed our live puncturing demonstration as we put two tyres through hideous damage – and they held their air all through three days of torture, involving many hundreds of punctures, immediately sealed by OKO Off Road anti-puncture sealant.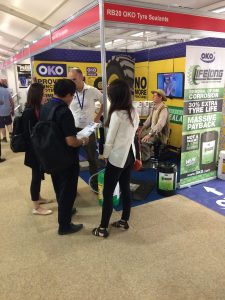 Thanks to the very many off road vehicle-operating visitors who stopped to watch and talk: and we have been following up with them ever since.
In addition to showing Off Road heavy duty tyre sealant, and Mining X-tra heavy duty (for 25 inch tyres and larger) we had our exciting new LifeLong product to show – not a sealant, but a free-flowing liquid for those whose main problem is not punctures but the corrosion of wheel rims and the short life of tyres. LifeLong meets those problems head-on. Both steel and alloy rims are protected from rusting or pitting – its nanotechnology lays down a microscopic layer on the metal that can even clean up existing surface rust and works whether the wheel is moving or not.
For tyres, LifeLong stops a lot of air loss, while also cooling and conditioning the rubber – the result is an average 30% increase in tyre life!
The increased flexibility of the tyre makes mounting and demounting easier. And we have added a UV-sensitive component to the liquid so that under a UV light in the workshop you will see very clearly where bead/rim/o-ring leaks are happening, or sidewall slits – and be able to deal with them.
Mining, quarrying and large construction vehicles have big, very expensive tyres and rims – and this new next-generation wheel and tyre life extender offers an amazing payback to operators.
See more at oko.com, and let us talk to you today…
Chris Ring
Extra Heavy Duty tyre sealant, Hillhead, mining tyre sealant, mining vehicles, off road tyre sealant, OKO LifeLong, OKO Mining, OKO Off Road, OKO Puncture Free, oko tire sealant, oko tyre sealant, puncture free, puncture proof, puncture sealant, tire sealant, tyre life extender, wheel and tyre life extender
0 comment